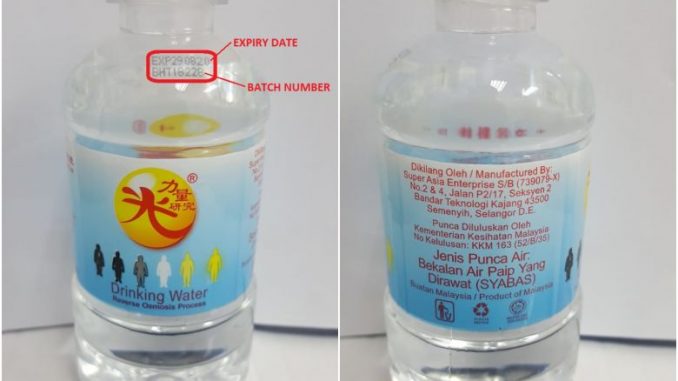 AVA recalls batch of Guang Li Liang bottled drinking water
SINGAPORE – A batch of the Guang Li Liang bottled drinking water has been recalled by the Agri-Food and Veterinary Authority of Singapore (AVA) after a common environmental bacteria was detected in the product.
In a statement on Saturday evening (Sept 8), the AVA said the Pseudomonas aeruginosa bacteria, which can be found in faeces and sewage, was found in the water during routine sampling.
While consumption of products contaminated with this bacteria can cause a range of infections, it rarely causes illness in healthy individuals, AVA added.
The bacteria can multiply in water environments and also on the surface of suitable organic materials in contact with water.
The agency has ordered the importer, BSY Power of Light Trading, to recall the affected batch with the number 18228. The expiry date for the affected products is displayed as either 040820, 260820, 290820. The product is imported from Malaysia.
Consumers who have the affected products are advised not to consume them and those who feel unwell after consuming it should seek medical attention.
Consumers with queries can also contact the importer via phone on 9756-8786, or e-mail enquiries@bsytrading.com.
This article was first published in The Straits Times. Permission required for reproduction.
news POST
Purchase this article for republication.
Published at Sun, 09 Sep 2018 01:20:00 +0000