Bak Kwa Prices in Singapore 2019 – Bulk Orders for Chinese New Year Now Open
2018 has barely ended and it seems like the Chinese New Year madness will soon be upon us once again. Chinese New Year in 2019 is quite early, with the first day happening on 5 February.
And if you weren't lucky enough to book an overseas getaway at a reasonable price, there's a good chance you won't be able to escape relatives and friends coming over.
Be sure to have a steady supply of bak kwa available so they'll be too busy stuffing their faces to bother with questions like why you're not married yet.
Here are the current bak kwa prices as of today. Most of the bak kwa stalls will be either raising prices in the coming weeks or completely sold out, so it might be worthwhile to bulk order or get early bird prices. Keep your eyes peeled to this space and we will update new prices and promotions when we get wind of them.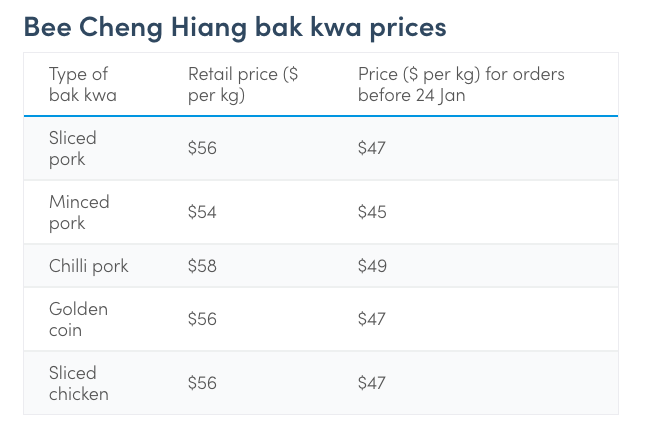 Bee Cheng Hiang is a household brand thanks to the many celebrity endorsements that it has secured over the years. From being featured in 2002 film "I Not Stupid" to various bus and TV ads featuring Christopher Lee, Fann Wong and Zoe Tay, Bee Cheng Hiang is the largest bak kwa brand with many outlets all over Singapore.
From now until 31 January, you can get cheaper prices when you bulk order at Bee Cheng Hiang. Your order must be placed 4 working days before delivery with a minimum order of 28kg. The cheapest prices are for orders before 24 January, and they progressively increase towards the end of January.
Addresses: Visit their website to see all Bee Cheng Hiang outlets
Tel: 6500 0888
Fragrance bak kwa, or more affectionately known as "Xiang Wei Rou Gan", is another major bak kwa seller in Singapore with more than 40 outlets islandwide. You definitely won't have a problem finding one near your place or office.
From now until 31 May 2019, if you are a Black PAssion Card holder, you get 25 per cent off their Signature Sliced Tender Bak Kwa and Chicken Bak Kwa. PAssion Silver and Platinum Card get 30 per cent off. However, there's a blackout period from 1 January to 28 January 2019.
Order early to get cheap prices and get free delivery for orders above $1,200!
Addresses: Visit their website for full addresses of all Fragrance Bak Kwa outlets
Tel: 6257 8608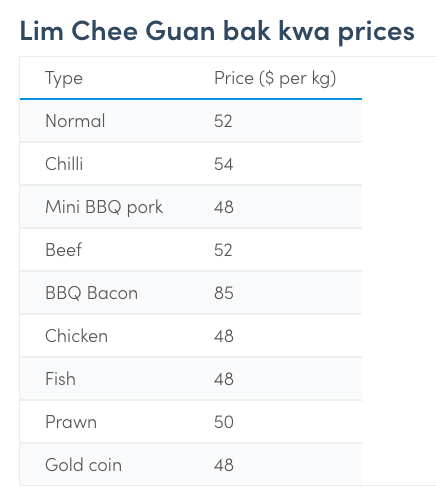 *Current prices. Prices may be inflated by $2 to $4 per kg closer to Chinese New Year.
Lim Chee Guan offers a wide range of products from sliced pork to BBQ bacon, BBQ chicken and BBQ beef. They have 3 outlets. 2 in Chinatown and 1 at ION Orchard. While most people think of bak kwa as Chinese New Year food, now they are actually offering a special gift box for Christmas with every $100 purchase of Lim Chee Guan products.
Addresses: 203 New Bridge Road Singapore (059429), 1 Park Road #01-25 Singapore (059108), ION Orchard #B4-37
Tel: 6227 8302

*Prices will be inflated by $3 per kg on 19 January 2019.
The bak kwa at Kim Joo Guan is apparently made from a secret family recipe, passed through 4 generations. They also sell wholesale to Lim Chee Guan and other retailers.
The Chinese New Year 2019 pre-order for bak kwa has started. If you order a minimum of 5kg now, you can get $52/kg for collection or delivery between 1 to 18 January 2019, or $55/kg for collection or delivery between 19 January to 2 February 2019. Orders above 30 kg enjoy free delivery. Call 91516018 from Mondays to Saturdays (10am – 7pm) to order.
Addresses: 257 South Bridge Road and 103 Irrawaddy Road #01-25 Royal Square at Novena
Tel: 6225 5257 or 9151 6018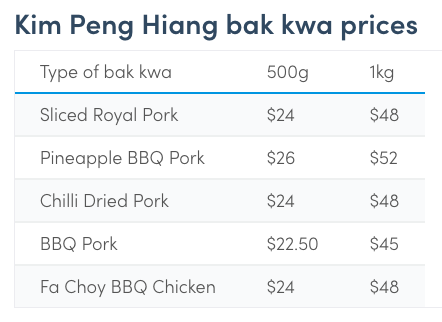 Kim Peng Hiang does not have the clout of bigger brands like Bee Cheng Hiang and Fragrance but the unique thing about them is that they carry interesting flavours like Fa Choy BBQ Chicken Bak Kwa and Pineapple BBQ Pork Bak Kwa. For those spicy food lovers, there is also Chilli Dried Pork.
The prices listed have already been inflated for CNY 2019. Advanced orders for 2019 are now closed, but you can walk in to buy the bak kwa closer to the date.
Address: 465 Changi Road Singapore
Tel: 6742 6853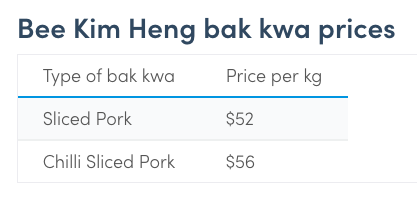 *Current prices. Prices may be inflated by $2 to $4 kg closer to Chinese New Year.
Bee Kim Heng's bak kwa are chewy and smoky. The owner has been operating the little stall in People Park's Food Centre for over 50 years and personally grills the bak kwa until today. Reportedly, the taste is on the sweeter side. While the auntie on the phone expressed that she is unsure of how much they will inflate the prices this year, she says: the earlier you buy, the cheaper!
Address: 32 New Market Road, #01-1010 People's Park Food Centre
Tel: 6535 0735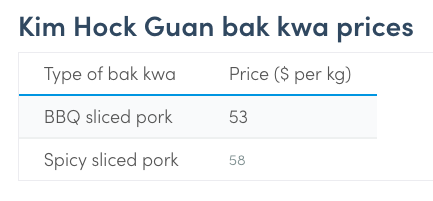 *Current prices. Prices will be inflated by $2 per kg closer to Chinese New Year.
Kim Hock Guan is an old bak kwa brand – their logo is the black-and-white photo of their founder (Kim Hock Guan himself, probably) – which makes it seem just that bit more legit. Their bestsellers are Traditional BBQ Sliced Pork and Spicy Sliced Pork and they take pride in not using minced meat. They only use sliced lean meat of pork hind. Their bak kwa don't contain artificial preservatives, colouring and flavouring.
Addresses: 150 South Bridge Road #01-02 Fook Hai Building / 180 Bencoolen Street #01-25 The Bencoolen
Tel: 6535 2536 / 6835 7118
This article was first published in MoneySmart.
Published at Tue, 01 Jan 2019 02:00:00 +0000