Hong Kong singer Nicholas Tse launches cha chaan teng-inspired signature menu for McDonald's
Hong Kong singer-actor Nicholas Tse, most recently seen on television as a judge of popular Chinese singing competition Sing! China, put on his chef's hat recently for a collaboration with fast-food chain McDonald's.
The 38-year-old's signature menu, My Taste Of Hong Kong, is available only at McDonald's outlets in Hong Kong and Macau.
The menu features six dishes that put a twist on Hong Kong's cha chaan teng favourites, including a Bolognese and Fried Egg Angus Beef Burger, Siew Mei-flavoured shaker fries, Cookie and Milk Tea McFlurry and Orange Punch.
The other options are a Fried Onion Crispy Pork Cutlet Burger and Typhoon Shelter Crab-flavoured shaker fries, which will be launched later this month.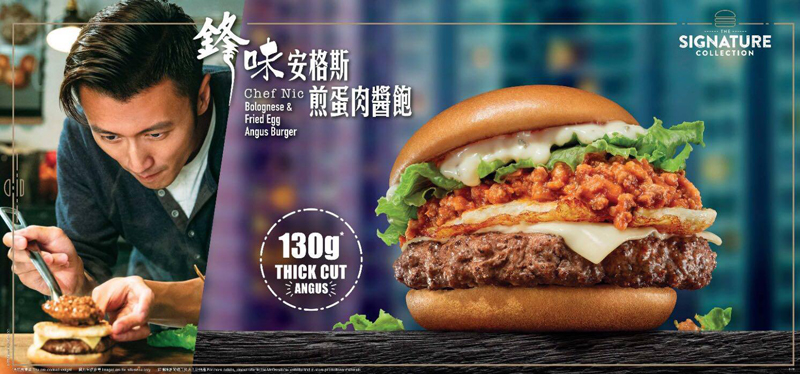 The dishes, which range from HK$18.50 (S$3.25) for shaker fries to HK$46.50 for a burger meal with fries and a drink, are inspired by Tse's favourite childhood comfort food. Judging from social media posts, the food items have received mixed reviews.
Some patrons said that the Angus burger was "juicy", but others said that it was heavy on the palate.
Besides Tse's special menu, McDonald's patrons will also get a paper placemat with a picture of him preparing a burger.
Tse, who was featured on cooking show Celebrity Chef: East vs West earlier this year, posted several pictures on Facebook where customers have "decorated" these placemats with fries and ketchup.
The food aficionado, who hosted his own food travelogue Chef Nic, started cooking in 2010 after watching a television show about pastries, and tried his hand at making profiteroles.
That first attempt was a disaster, but that has not stopped Tse from further culinary endeavours. Tse presented rose profiteroles at a gala dinner in 2017 to 500 guests, which included six chefs with 14 Michelin stars between them.
McDonald's Hong Kong released a promotional video for Tse's collaboration, featuring his new single as well.
It is not the Hong Kong star's first McDonald's collaboration. Last year, he created a spicy chicken burger for McDonald's outlets in China, which featured squid ink buns and a teppanyaki-style chicken patty.
This article was first published in The Straits Times. Permission required for reproduction.
news POST
Purchase this article for republication.
Published at Mon, 05 Nov 2018 03:25:00 +0000