Fish-Fragrant Eggplants (Sichuan Braised Eggplant With Garlic, Ginger, and Chilies)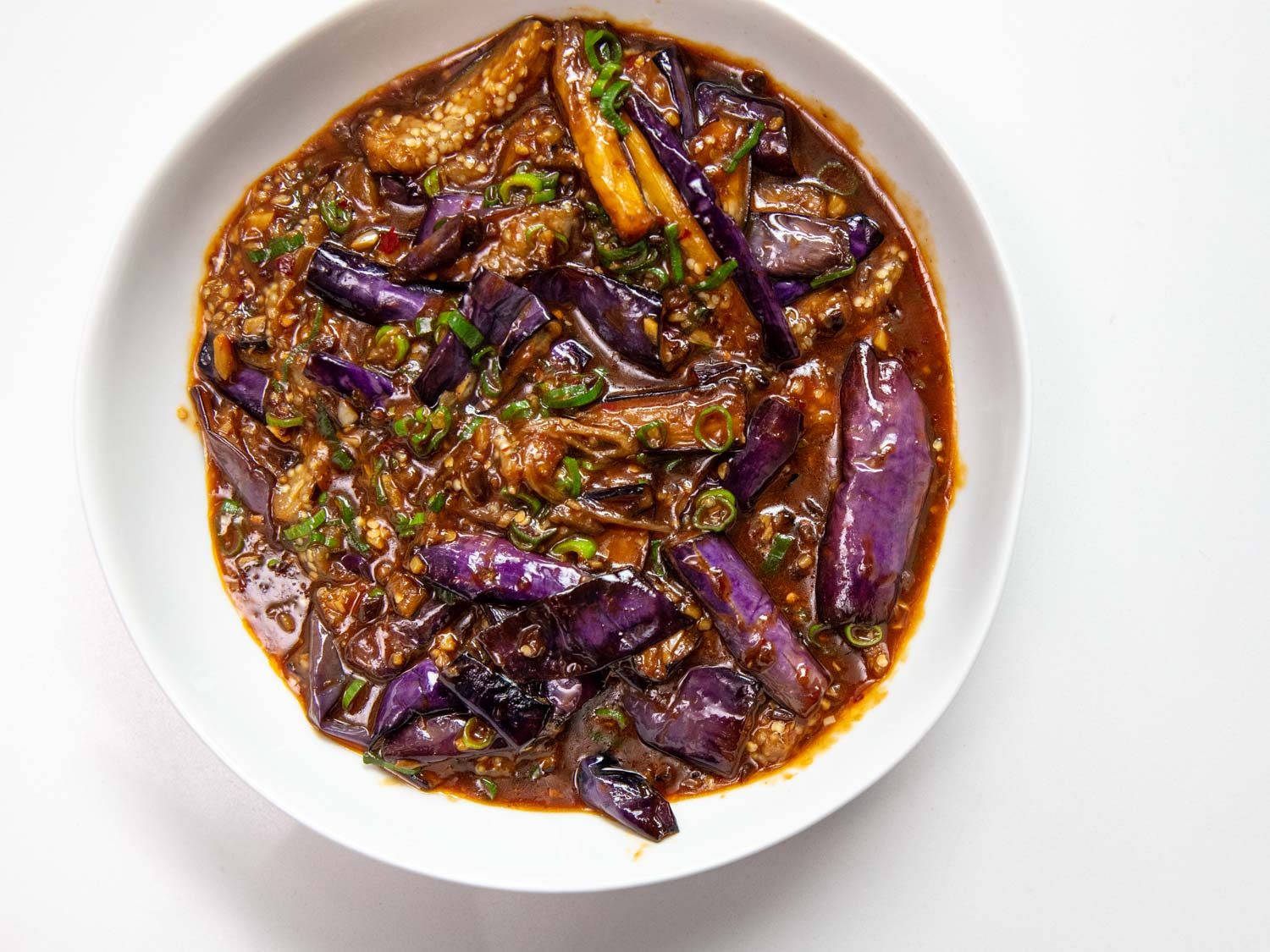 Excerpted from The Food of Sichuan by Fuchsia Dunlop. Copyright (c) 2019 Fuchsia Dunlop. Used with permission of the publisher, W. W. Norton & Company, Inc. All rights reserved.
The following recipe, called yuxiang qiezi in Chinese, is a Sichuanese classic, and one of my all-time favorite dishes of any cuisine. More than any other dish, for me it sums up the luxuriant pleasures of Sichuanese food: the warm colors and tastes, the subtlety of complex flavors. Like other fish-fragrant dishes, it is made with the seasonings of traditional fish dishes: pickled chiles, garlic, ginger and scallions. But unlike the more illustrious fish-fragrant pork slivers, it derives its color not from pickled chiles alone, but from pickled chiles combined with fava beans in chile bean paste. The sauce is sweet, sour and spicy, with a reddish hue and a visible scattering of chopped ginger, garlic and scallion.
The dish is equally delicious hot or cold. I usually serve it with a meat or tofu dish and a stir-fried green vegetable, but it makes a fine lunch simply eaten with brown rice and a salad. The eggplants, deep-fried to a buttery tenderness, are delectable. I have eaten this dish in restaurants all over Sichuan, and recorded numerous different versions of the recipe. The following one will, I hope, make you sigh with delight. If you want to scale up this recipe for a party, rinse and dry the salted eggplants, toss in a little cooking oil and then roast for 15–20 minutes in a 425°F (220°C) oven until golden. Make the sauce, but don't thicken it with starch; instead, pour it over the roasted eggplants and set aside to allow the flavors to mingle. Serve at room temperature.
Published at Mon, 27 Jan 2020 10:26:52 +0000