Manchester City boss Pep Guardiola: We can still do much, much better
Pep Guardiola insists his Manchester City team can get even better despite sweeping almost all comers aside this season.
City are 11 points clear at the top of the Premier League after winning their last 15 games, a record in the English top flight.
Plaudits have poured in for the stylish and resilient football City have played this term but, for Guardiola, there is no resting on laurels.
He said: "What's important is to focus on the pitch what we have to do to play better, to increase our chances and concede few. That's what we have to do.
"When I'm happy, it's not because of the result but the way we play. That's what I'm more satisfied by.
"I have the feeling we can do better – much, much better. That's what we have to try to insist in them."
The City boss is already convinced, however, that this team would have been too good for Guardiola the player.
Asked if he could have got into the side, Guardiola, who enjoyed a glittering playing career with Barcelona, said: "No way! Fernandinho is much better!"
City's current winning run may be unique in England, but it does not yet match Guardiola's personal best as a manager.
The Catalan won 16 league games in succession at Barca and bettered even that with Bayern Munich, winning 19 in a row.
But such figures are also of no interest to Guardiola, who must prepare his side to face Tottenham at the Etihad Stadium this weekend.
He said: "The record is OK, but records stay there and one day are going to be broken.
"Statistics are statistics. It's good to write about that but with the way we play I am satisfied the most."
Spurs were among the sides tipped to challenge City for the title at the start of the season but, despite sitting in a healthy-looking fourth place, they already trail the leaders by 18 points.
Guardiola said: "(On Saturday) is an important game. The opponent, Tottenham Hotspur, are so, so tough. They remain a top team. (The table) doesn't matter.
"The results are the results. I see what they do, I don't see the table."
City will be without centre-backs Vincent Kompany and John Stones, but both are close to returning.
Captain Kompany missed the midweek trip to Swansea after suffering a minor muscle problem in the first half of last week's derby win at Manchester United.
Guardiola said: "He's much better. He's got a little, little problem. I don't know if (on Saturday) he'll be fit, but hopefully in the next games he will be ready."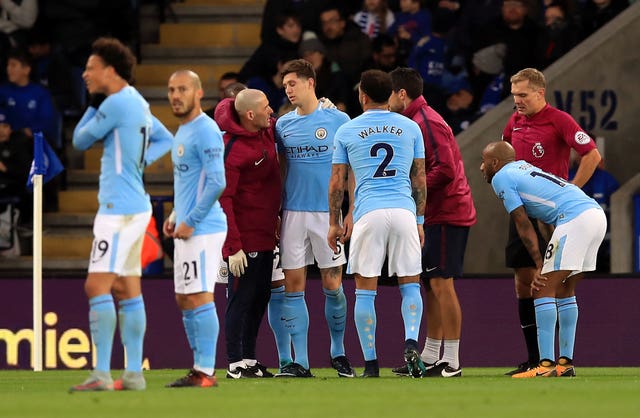 Stones has been out for the past month with a hamstring injury but is now in the final stages of his recovery.
"This weekend will be the fourth week," Guardiola said.
"Doctors said between four and six, so in one or two weeks he will be ready, hopefully."
Source: By By Andy Hampson, Press Association Sport
---
Published at Fri, 15 Dec 2017 17:11:19 +0000