Sicilian-Style Spaghetti Alla Carrettiera (Fresh Tomato and Garlic Sauce)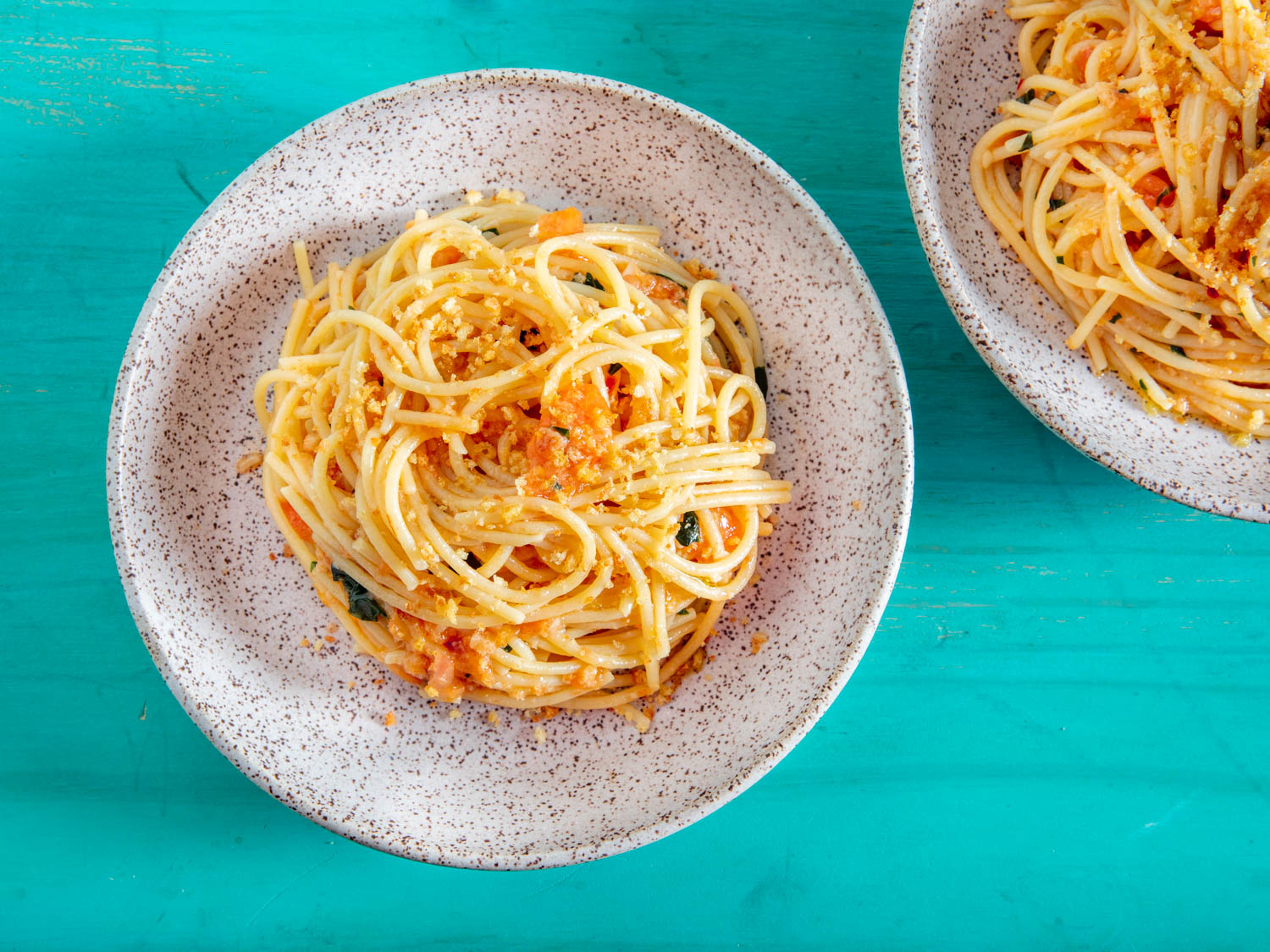 This Sicilian pasta sauce couldn't be quicker or easier to make: Peel and roughly purée some tomatoes, mix them with raw minced garlic, chopped basil, olive oil, and red pepper flakes and then toss with cooked spaghetti and some of its starchy water as soon as it's cooked. Some toasted breadcrumbs, meanwhile, help thicken and emulsify the sauce.
Because the sauce is heated only by the pasta and its cooking water, it retains all of its fresh tomato and basil flavor. It reminds us a little of tomatoey pesto alla Trapanese, except this recipe is even simpler and faster to whip up.
That ease is tied to its history: In the olden days, wandering cart drivers would crisscross the Italian countryside, selling goods, wares, and basic cooking ingredients to the townspeople along the way. When they were hungry, they'd quickly whip up a sauce like this using just the basic ingredients they had on their cart.
This is just one example, though. Some Sicilian recipes add grated Sicilian Pecorino cheese or ricotta salata, while others omit the tomatoes. The variations are endless (as you travel farther north to Rome, the sauce shifts to a cooked version packed with shelf-stable ingredients like canned tomato, canned tuna, and dried porcini mushrooms).
Keep that in mind when you make this: You can make your own version based on what you have on hand. Don't have fresh basil? Some fresh parsley works well, too. Low on tomatoes? Make an in bianco ("white") version without them. Just like the cart drivers of long ago, your carrettiera sauce can be whatever you need and want it to be.
Published at Thu, 19 Mar 2020 12:57:21 +0000